Facade Systems - Inspection and Testing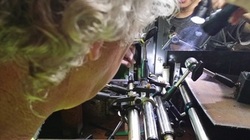 QA/QC
is the combination of Quality Assurance, the process or set of processes used to measure and assure the quality of a product, and Quality Control, the process of meeting products and services to consumer expectations. Quality Assurance is process oriented and focuses on defect prevention, while quality control is product oriented and focuses on defect identification.
At PMI, our goal is to ensure both Quality Control and Quality Assurance are monitored and controlled.
Monitoring and controlling Quality consists of those processes performed to observe project execution so that potential problems can be identified in a timely manner and corrective action can be taken, when necessary, to control the execution of the project. The key benefit is that project performance is observed and measured regularly to identify variances by doing the following:
Measuring the ongoing project activities ('where we are');
Monitoring the project variables (cost, effort, scope, etc.) against the project management plan and the project performance baseline (where we should be);
Identify corrective actions to address issues and risks properly (How can we get on track again);
Influencing the factors that could circumvent integrated change control so only approved changes are implemented.
At PMI International, we ensure that all Testing and Certification to your specific International Standards are met.
---